West Coast Wellness - Wellness center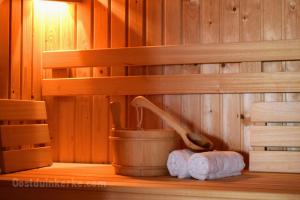 Dive into an oasis of peace and relaxation at West Coast Wellness, situated on the grounds of Holiday Park Oostduinkerke. This wellness destination is a sanctuary where you can immerse yourself in a serene setting, away from the daily hustle. With an array of saunas and baths, it's the perfect spot to unwind in tranquility.
Furthermore, West Coast Wellness offers various massage treatments. Indulge yourself with the professional masseurs who provide a range of massages, from facial treatments to full-body massages using essential oils, hot stone massages that penetrate deep into the muscles, and massages that leave your skin velvety smooth.
The outdoor space of West Coast Wellness is a delightful place to relax. Surrounded by a beautiful garden, it boasts an outdoor swimming pool, a splendid sunbathing area, and comfortable loungers for total relaxation under the sun. As you savor the fresh air, you can also enjoy a refreshing fruit drink to enrich your wellness experience.
Accessible to everyone
West Coast Wellness is located at Sunparks Oostduinkerke, but it's accessible to everyone for a fee.
Experience ultimate calm and revitalization at West Coast Wellness, a coastal escape that leaves you refreshed and renewed.
Furthermore West Coast Wellness is near the following sights: Miniature Golf Sunparks Oostduinkerke (±80 m), Aquafun Oostduinkerke (±80 m), Kidsworld Oostduinkerke (±150 m), Kinderboerderij De Lenspolder (±1,8 km) & Seastar (±2,0 km).
For information:
Kinderlaan 77, Oostduinkerke
web.
More information