Kidsworld Oostduinkerke - Playground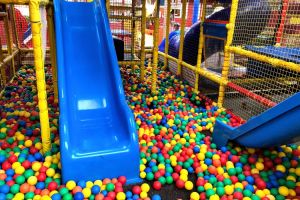 Experience a day full of play and fun at Kidsworld in Oostduinkerke, an indoor playground that is the perfect spot for children to let loose, regardless of the weather. Located next to Sunparks Holiday Park, this playground offers a safe and child-friendly environment where children up to 12 years old can enjoy a variety of play equipment and activities.
Kidsworld boasts an impressive play area of over 800 m², fully covered and equipped with the latest play equipment. All apparatuses are made from shock-absorbing material to ensure safety. The playground features a large climbing frame with slides, an inflatable cushion, and a special Benjamin zone for the little ones.
Parents can comfortably supervise their playing children from the terrace, allowing them too to enjoy a relaxed day out.
Accessible to everyone
Although located at Sunparks Holiday Park, the playground is also available for a fee to those not staying at the holiday park. It's also an ideal location for birthday parties, making it a popular choice for both local and visiting families.
Furthermore Kidsworld Oostduinkerke is near the following sights: West Coast Wellness (±150 m), Aquafun Oostduinkerke (±175 m), Miniature Golf Sunparks Oostduinkerke (±225 m), Kinderboerderij De Lenspolder (±1,9 km) & Seastar (±2,1 km).
For information:
Polderstraat 158, Oostduinkerke
tel. +32 582 373 11
web.
More information